How Often to Replace a Car Battery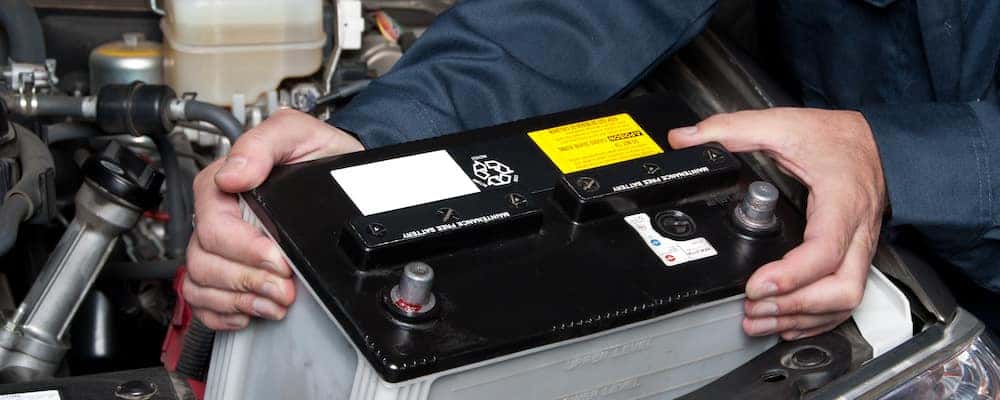 The average battery lifespan is around 4-5 years, although that can vary depending on different factors. Take a look at our guide to car batteries at Land Rover Princeton near Mount Laurel, and when it's time to replace your battery, visit our Land Rover service center!
How to Know If Your Car Battery Needs to Be Replaced
Four warning signs that indicate your battery will need a replacement soon:
Dimming headlights
Increasingly frequent need for engine revving or jump-starts
Takes longer to start the engine
Unusual power fluctuations
What Causes Car Battery Deterioration?
Heat: Heat can cause battery liquids to evaporate, so if you live in a warmer climate your battery life will tend to be shorter than if you live in cold weather or a moderate climate.
Vibrations: If you drive on off-road trails around Mount Laurel, or your battery's hold-down clamps are loose, vibrations may break down battery parts faster.
Needing a Jump: Every time your vehicle requires a jump-start, its battery life is shortened.
Time: Just like a laptop or phone battery, a car battery can only charge so many times before it's time to remove and replace it.
To get a more specific estimate of how long your car battery should last with proper care, check your owner's manual or Land Rover maintenance schedule.
How to Test a Car Battery
During semi-annual regular maintenance, you should have your car battery tested by technicians, Many service centers also offer free testings if it's not time for your tune-up, or you can try these at-home methods.
The Headlight Test:
Turn on the engine and make turn the headlights on.
Rev the engine and check if headlights get brighter.
If the brightness increases, that means the current is not strong enough while the car is idling have the lights at full brightness.
Take your car in for service to fully check the battery.
Using a Digital Multimeter:
Set the voltmeter to 20 DC volts.
Under the hood, touch the negative terminal with the negative meter probe.
Touch the positive terminal with the positive meter probe.
Have a someone else turn on the headlights while you monitor the voltmeter reading.
At 80℉, 12.5 volts or higher means your battery is fully charged.
12.3 volts means it's at about 75% charged.
11.8 volts or lower means you have 25% or less charge.
How Much is a Replacement Car Battery?
A car battery can cost between $75 and $120 normally, but a premium battery could be up to $200. Since hybrid car batteries have a much bigger task they are much more costly–between $1000 and $6000–but the lower gas consumption over time usually offsets this cost.
Rely on Land Rover Princeton For Your Service Needs
If it's time for you to replace your battery, visit the Land Rover Princeton parts center near Hopewell. Be sure to check our parts and service specials ahead of time to take advantage of our rotating offers! If you have any more automotive questions like how to clean leather car seats or what is the difference between premium and regular gas, rely on Land Rover Princeton.
More From Land Rover Princeton
The Range Rover Velar is a top-rated vehicle known for its avant-garde style and advanced technologies. What's better, the 2021 Range Rover Velar has no shortage of color choices for South Brunswick shoppers to choose from. Explore the different Velar color options to find the one that best matches your style. Then, get in touch with…

Families around South Brunswick will love the 2021 Land Rover Discovery thanks to its spacious interior and intuitive features. With three rows of seating for five to seven passengers and a maximum cargo capacity of 74.3 cubic feet, you can flexibly handle errands and road trips with ease. So, how much can a Land Rover Discovery…

The 2021 Range Rover Evoque interior offers a unique style and advanced technology to drivers, thanks to features like perforated leather seats, ambient interior lighting, and multiple premium audio system options. Explore the Range Rover Evoque capacity, interior dimensions, and more to see how this luxury SUV can enhance your South Brunswick drives. Then, explore our…