PRIVATE OFFER PROGRAM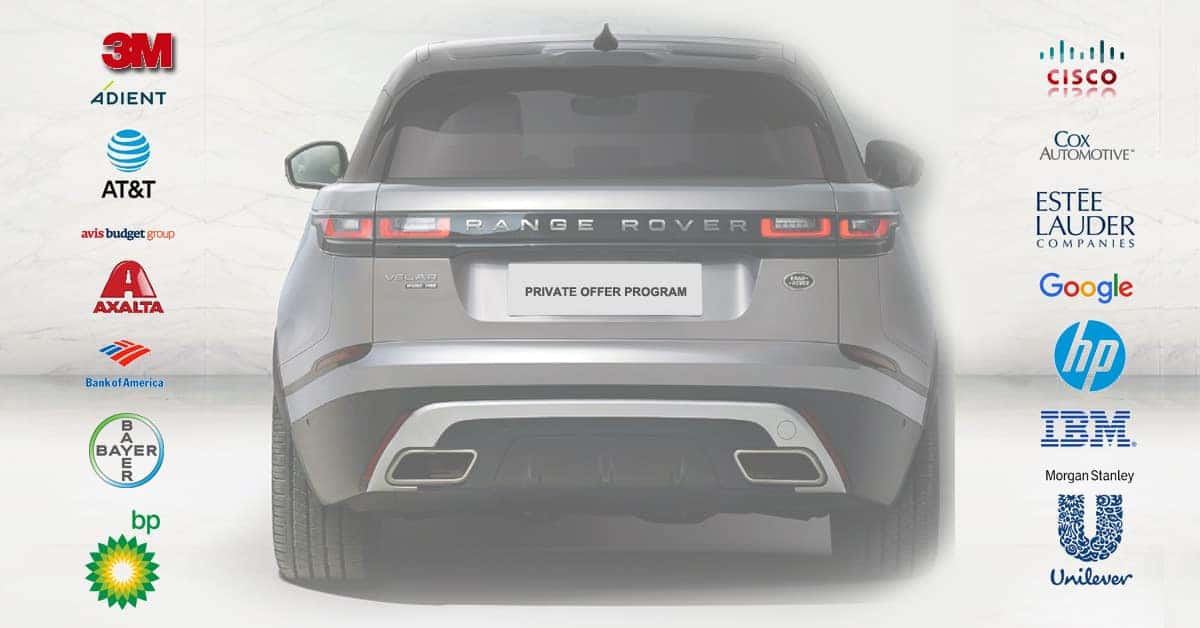 This JLR Private Offer Program  provides a customer $1000 cash incentive for select pre-approved members and employees of organizations and companies listed below towards purchasing or leasing any of brand new* 2017 or 2018 Land Rover Range Rover vehicle:
3M *At&T * Inc * AAM * Adient * Authobahn Country Club * Avis/Budget Group * Axalta Coating Systems * Bank of America * Bayer * Borg Wamer * BrandShop * British American Business Association *  BP * Cisco systems * Continental Tires * Cox Automotive * Cross Senior Care * Dana * Dealer Tire * Delaitte * Delphi * Dura * Enterprise Holding * Florida Bar Assoc * Gartner * GAP International * General Mills * Gentex * Google * HERE * Hewlett Packard * IAC * IBM * Intel * JD Norman * Jaguar Club of NA * KPMG * Kemeta Corp * LGA * Lear * Magna * Maxion * Monticello Motor Club * Morgan Stanley * Novelis * QNX * Qual Comm * SAP * Shiloh Industries * Sixt Rent a Car * Spotify * Target * Tenneco * The Enthusiast Network, The Estee Lauder Companies * The Herz Corp * TRW * Unilever * Valero * Visteon * ZF *
PROGRAM SPECIFIC NOTES
CUSTOMER PURCHASE PRICE:
Best negotiated less cash incentive listed in this bulletin
Participant is responsible for all applicable taxes, fees, insurance, and security deposits.
PROGRAM COMPATIBILITY
Program is compatible with ATS Support (if available) , subvened leas and special APR
Program is compatible with select retail customer cash offers
* Outcycled Service Loaners, VIP, Alive Drive Demonstrators are eligible for this program.
Program is not compatible with other private offer programs (Partner, Diplomat, Influencer, Owner Loyalty )
MSO vehicles are not eligible for program.
PROGRAM ENROLLMENT
Customer must submit a PIN request via the link: https://www.jlrprivateoffer.com/
Participants are eligible to purchase or lease two(2) vehicles within a 12-months time frame.
Program expires on 04/02/2018. Jaguar Land Rover may cancel or change this program at any time.